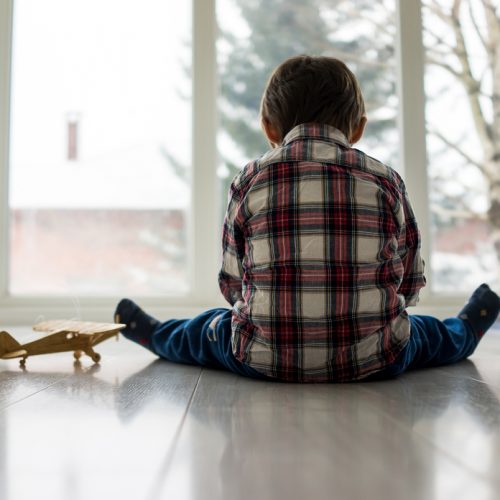 Grace shared a story about her older son's stressful "big brother" transition that demonstrates the healing power of respectful parenting practices.
My younger baby Ben was in NICU and came out with brain damage, so the months after his birth were very stressful. All our time and energy was put into helping him and taking him to appointments.
One day when Ben was about four months old, my elder son (almost four) told me quite calmly that he didn't feel loved anymore. My initial reaction was to say, "Ah, don't feel that, we love you so much," but I thought of you and just stopped. I told him that he must feel very sad and lonely, and that I understood that it must be difficult for him to feel unloved. I asked him when he had last felt loved, and he said it was the day before Ben was born. I reassured him that we loved him very much and told him that I would ask him every day how he felt. We really focused, not on adding extra treats or letting boundaries go, but on speaking kind words, having one-on-one time, giving masses of affection, and explaining in depth what was happening with Ben (for example, exactly what appointment or therapy was happening and why we felt stressed). After four and a half weeks of him feeling unloved, he finally said that yes, he knew he was loved and he felt happy again.
Thank you for giving us the tools to help him through this very difficult time.
– Grace
Grace's story begins with a brilliant "win." Her 4-year-old felt comfortable and confident enough to know what he was feeling and to express it. Bravo, Grace!
Grace then implemented these important guidelines:
1. Accept all feelings with openness and curiosity. Let feelings be is easy to say but tough to do when our children are sharing their gripes, negativity, disappointment, anger (especially anger), or anything else that's uncomfortable to hear. But if we follow the impulse many of us have to make these feelings instantly better, shut them down or otherwise discourage them, we also shut down conversations that are precious parenting gold. Grace's restraint enabled her and her son to explore his feelings and develop a plan for addressing them. Most of us hope to be the person our child confides in, and meeting these situations bravely and openly is the way to ensure that.
2. Don't let boundaries and routines slide in order to be "softer" on our children when they're feeling out of sorts. During stressful situations and transitions, children need the security of our consistent boundaries and structure more than ever.
3. Give bountiful, genuine affection, but not with the intention of fixing our children's feelings.  Children need to know we're not trying to hug their feelings away.
4. Set aside one-on-one time. Children need us to show them that nurturing our relationship with them is a priority, and that they don't need to perform for or entertain us to earn our attention. Our presence is enough.
5. Inform children to the fullest extent possible to prepare them for new or difficult situations so that they can anticipate these events, gain a healthy sense of control, and feel included as a part of our team.  Kids also need us to share our feelings in simple terms so they aren't left wondering why we're stressed, perhaps even taking it personally and worrying: Daddy's mad at me. Children know when we're going through something. They always know. So, we should fill them in whenever it's appropriate.
6. Be patient. Let black clouds hang in the air as long as they need to. Through our patience and trust we provide our children invaluable, healthy messages:
It's safe and okay to feel whatever you're feeling.
You can be yourself — share even your darkest thoughts.
You are trusted.
All feelings pass and you will survive them.
(Thanks to Grace for allowing me to share this story. And again, Bravo!)
I share more about nurturing emotional health in No Bad Kids: Toddler Discipline Without Shame