Posted by
janet
on Sep 13th, 2011
"There are certain things children are obliged to do, but in play where there is no obligation, they come to something new and fresh. Play is a trying out experimenting. It's not a joke, children don't play for fun. They play for real, and adults don't understand that; they laugh at what children do. To children, play is very serious." –Educator Margaret Flinsch
Imagine you and the grandparents are taking your 14-month-old to the beach for the very first time. For days you've all been enjoying fantasies about how you'll share the magic with your baby: making sand castles, finding shells, sitting under an umbrella with a yummy picnic lunch, holding her hand and wading in the ocean together. But then you get there and your toddler chooses to do something surprising and a little bit odd — it throws you for a loop. She's in no danger, isn't bothering anyone and is obviously following her desires, but you worry… Is it okay? Should I try to engage her in the activities I've planned or just let her be (and if so, for how long?).
Infant specialist Magda Gerber would strongly encourage you to let go of your expectations and agenda, relax, trust, keep an open mind and enjoy your baby's play, allowing her to continue her self-chosen activity for as long as you can. She'd suggest you take advantage of the opportunity to join her on this child-led adventure (which Magda referred to as "wants nothing" quality time).
"Most of us are used to, and conditioned to doing something. "Wants nothing" time is different, more a time for taking in and waiting. We fully accept the infants' beingness just by our own receptive beingness. Our presence is telling the child that we are really there and aware."  -Magda Gerber, Dear Parent: Caring for Infants With Respect
Self-directed play encourages toddlers to be independent thinkers and learners, allows for creative exploration and self-expression, and often serves as play therapy since our babies instinctively know what they're working on (or working through). Honoring our child's choices rather than imposing our own validates more than any amount of praise and adulation ever could.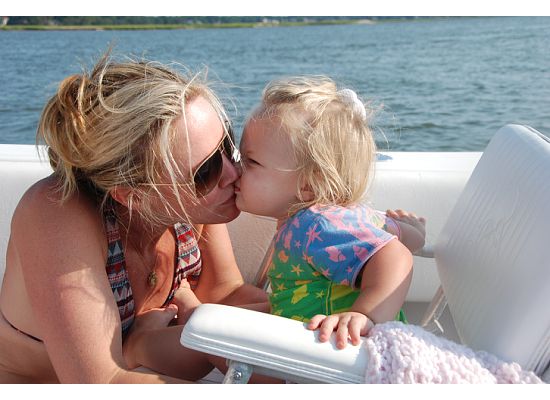 Here's the vivid example that inspired this post, sent to me by a mom in my RIE Parent/Infant Guidance Class after she returned from a late summer vacation…
Janet,
I just have to share these pictures with you. To everyone's amazement, Eva just kept lying down on the sand! She would just lie there and hang out by herself. My parents were sort of shocked and like…'what is she doing?' I was thinking Magda would be proud and that her actions were a testament to what I've learned at RIE…just to let her be her!
xoxox
Tracy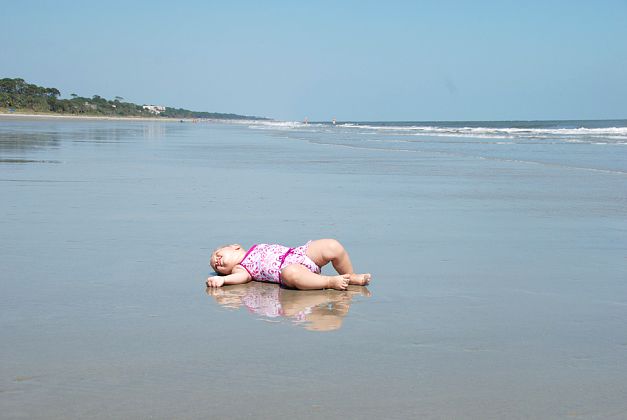 "This is a free-flowing space in which the child should not feel he has to perform, because the parent is not sending out the kind of demanding messages that say, "I am here now, what shall we do?" –Magda Gerber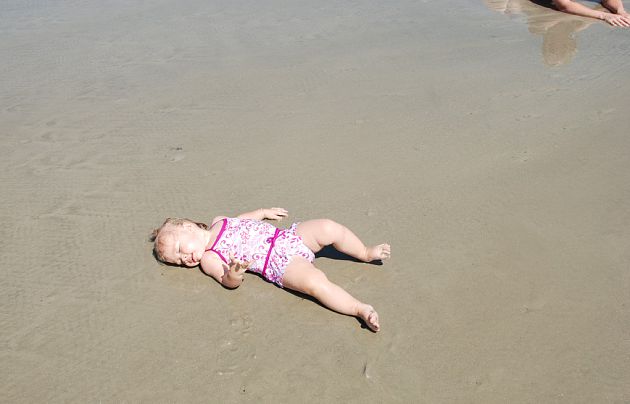 "If the infant seems to ignore you and is doing something completely on his own, don't leave.  It is very comforting for him to know you are there, really there, without any pressure to have to do something to keep your attention." –Gerber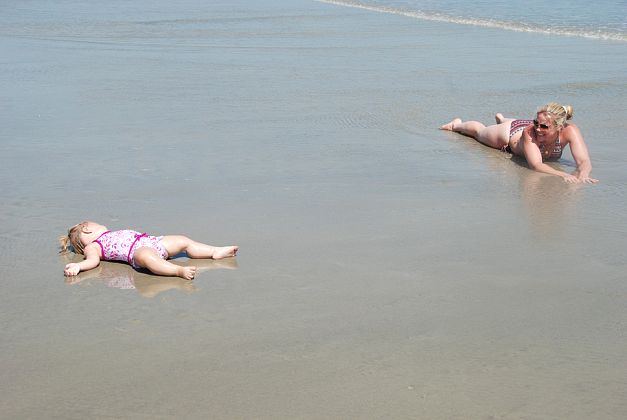 "Do less, enjoy more." -Gerber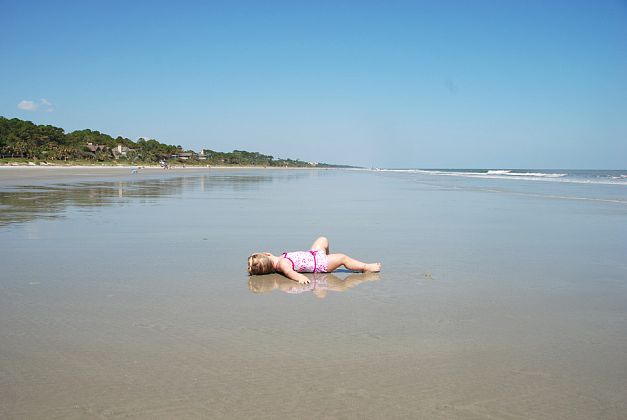 "In play, there's no time." –Flinsch
 I share more about infants, toddlers, and self-directed play in
Elevating Child Care: A Guide to Respectful Parenting
(Besides being an exceptional mom, Tracy is an uber-talented artist  and fitness guru)
Share and Enjoy
Follow me on Facebook or Twitter.
I LOVE your comments and questions. Please add them here...
Leave a Reply